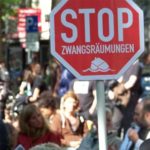 The Berlin-based group Stop Evictions Berlin fights against evictions. The group emerged in 2012 out of neighbourhood groups and a movement against rising rents when the German-Turkish Gülbol family decided not to let their forced eviction happen, but to protest and resist against this form of injustice.
A publicly announced blockade of the bailiff was organised and a thousand people responded. The family's struggle became known in the whole of Germany and received a lot of support, but in the end the eviction was executed by the state with more than 800 police officers.
Since then, Stop Evictions Berlin has fought against the eviction of around 70 families and individuals by bigger and smaller actions, press work, civil disobedience, collective negotiations with landlords and state entities and support at court proceedings. In some cases, evictions are stopped, in others Stop Evictions Berlin successfully finds housing alternatives. Some evictions can't be stopped.
The group meets weekly and discusses what will be done in the current cases of evictions. Stop Evictions Berlin also participates actively in struggles and campaigns against rising rents, displacement, racism on the housing market, refugee struggles and oppression by the employment office.
If you are in danger of an eviction, have other troubles with your landlord or have interest in joining our group, please contact us on our email adress (zwangsräumungverhindern[ät]riseup.net) or on https://www.facebook.com/zwangsraeumungverhindern.